Melbourne Wins 8th Premier Title
One of the best Premier Division Finals was played and won by Melbourne against Deer Park on Sunday.
The boys started slowly but jumped into gear and took the lead with the help of Matty Ellul's rink of Jak Wilson, Sean (Fluffy) Ingram and Alex Skilton who gave Australian representativeMark Casey's rink a lesson in Grand Final bowls.
Also a special mention to Brett Spurr and his rink of Jarrod Boyd, Ray McKay and Cain Hanley. Spurrie played one of his best games and out bowled Alex (GOAT) Marshall the best bowler in the world
After leading for most the game, Deer Park lifted and Melbourne found itself 62-66 down with 2 ends to play. Ben Fearn's rink of Paul Titcombe, Arjay Bywaters and Nathan Murray lifted and the Deer Park rink faltered under the pressure and they picked up 5 shots to put the score 67-66, Melbourne 1 shot ahead.
So the game came down to Bryce Young's rink of Simon Cannington, Cain Hanley and Robert Doody playing to win the end or not losing more than 1 shot to force another end.
It came down to Bryce with his last bowl and being 2 shots down on the head. Bryce and Doody discussed the options , do I play with weight kill the end, knock out the shot bowls and wish for luck we get shot or only go 1 down or play with controlled weight and get the jack back to our bowls just behind the head.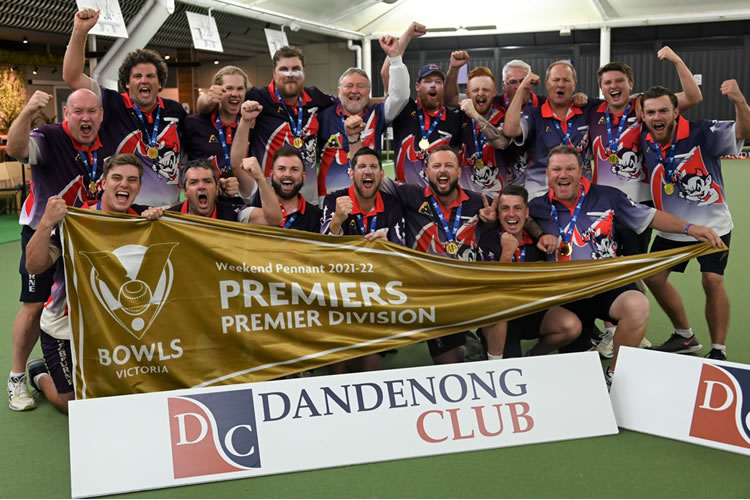 After much debate Bryce decided to play with controlled weight hitting the right side of the 2nd shot bowl and coming of the shot bowl hitting the right hand side of the jack in a nest of 3 Melbourne bowls. A great shot and a nerve racking win,.70-66. Magnificent bowl Bryce (Roo)
Melbourne has now won the most Premier Division Premierships 8, 1 ahead of Altona and have equalled Altona with 2 back to back flags.
We have won 5 State Pennants and Altona 7 and winning in May to go to 6 one behind.
We still have one more record to break and equal hopefully this year winning three in a row Premier and State Pennants and catch Altona again who won 3 State in 2000/01/02. I know 2000/01 were both against us,