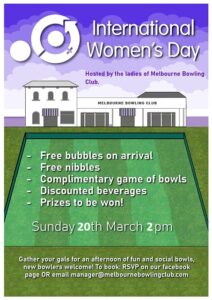 International Women's Day 2022
Sunday March 20
Join us for our 2nd year hosting International Women's Day.
Ladies play for free and men $10. All money collected will be donated to the Pancare Foundation.
Bring your friends and enjoy an afternoon of fun in the sun. Whether you would prefer sitting in our picnic area, playing a game of pool or rolling a bowl, we welcome you to the Melbourne Bowling Club this Sunday March 20, 2022.
No need to book!
Bowling Green Cafe Sunday Roast from 12:30 pm.